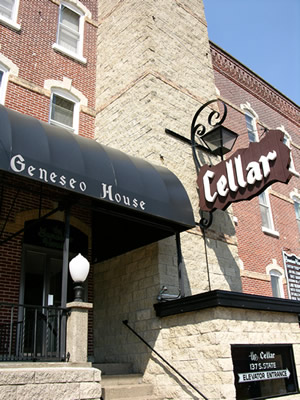 The Cellar Restaurant

Located downtown in the historic city of Geneseo, The Cellar Restaurant, is
alive with history. You will find us nestled in the lower level of a 130-year-old building known as the Geneseo House. We feature house-cut steaks, ribs, chops, and seafood; or maybe, you would prefer to try the House Specialty of Charcoal Broiled BBQ Shrimp. Our glassed-in kitchen allows you to view your food being prepared and, since we have staff with up to 43-years experience, you will find that they will welcome and
serve you as if you were old friends. For over 53 years The Cellar has been known for "Food Worth Traveling For".

Hours of Operation:
Monday : Closed
Tuesday : Closed
Wednesday : 5pm-9pm
Thursday: 5pm-9pm
Friday : 5pm-9pm
Saturday : 5pm-9pm
Sunday: 5pm-9pm